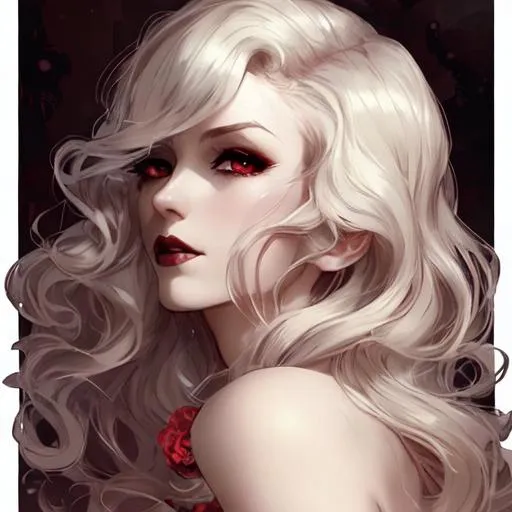 ---

Crack! Came the splintering sound of shattering wood, particles spraying outward from the collision. A drunken groan came from the debris. "I really hoped it wouldn't come to this love." A dangerous coo purred with heated venom beneath an unsettling calm demeanor.  Scarlet lips parting, A larger man slumped into the mess of debris. Judging by the mess, he'd been thrown with impressive force.  There was a feeble utterance of a desperate plea – apologizing for the wrongdoings to which the red-eyed woman simply tilted her head at. A felines' chirp briefly caught her attention as a white and incredibly fluffy cat amicably trotted towards its masters side. Purring it rubbed against slender limbs, sweeping her tail against the maiden.

"Oh, my little sugar cube. You're a perfect little a gem." The woman cooed gingerly towards the feline. To which the cat's bright pinkish red eyes blinked and looked up, its tail twitching back and forth, proud to receive such praise. There was coughing that interrupted the brief reunion to which platinum blonde curls bounced in the slight movement of her skull. An exaggerated sigh escaped painted lips. "You know I really don't like getting dirty unless I absolutely need to." though it was clear that her prey was still very much alive and – well, she couldn't have that, now could she?

It was swift, her movements clean and precise. "Ah, I do dislike the taste of tobacco in their system." Came a bitter scowl, pale thumb brushing away a stray trail of scarlet from her lips.  "Martia,"  a summons came. A woman in appearance that seemed much older, stepped from the shadows dressed in a formal maid attire. Her silver hair was tied in a neat, tight bun. "Would you be a doll and clean this mess? I want to make sure there isn't a single scratch on Dutchess."  The older woman nodded contently without complaint while Vixen retrieved her feline companion who nestled contently in her arms like the little fluffy royalty her master treated as such.

Jahi